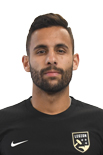 The Brazilian by way of North Carolina had a stellar rookie season in the Championship with seven goals and five assists. It was fair, in fact, to say that if Lapa was getting his name on the scoresheet, Legion FC was finding success. In games where he recorded either a goal or assist, Legion FC posted a 5-2-3 record that helped earn its second consecutive trip to the playoffs. While the spotlight may fall primarily on Neco Brett or JJ Williams, finding ways to get Lapa involved between the midfield and defensive lines could provide the means for Birmingham to get the goals it will need to succeed.
Robbie Crawford
Midfielder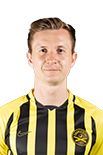 If you're an opposing side, the player that's likely to grab your attention most if you play the Charleston Battery is Bermuda international Zeiko Lewis. But what Crawford brought in his first season with the Battery has been arguably as valuable, providing a key foundation in the center of midfield that has allowed the team to connect and build attacks in open play while also providing strong set piece service. Crawford ranked fifth in the Championship in passes played into opponent's penalty areas this season with 107 as his progressive passing opened up chances for Lewis, Nique Daley, Stavros Zarokostas and others.
G1
Charlotte Independence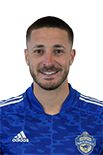 The big headlines for the Independence this season have been for forward Dane Kelly, who bagged his sixth season with double-digit goals after landing at the club this offseason, and goalkeeper Brandon Miller, who led the Championship in saves and was essential to the club's defensive success. But Areman shouldn't go overlooked as one of the other keys to the club's fine season. The New Jersey native led the Independence in both assists (4) and chances created (25) as he broke through in his third season with Charlotte to become a key figure. If he can find ways to get into dangerous positions and continue to deliver, Kelly's opportunities to add to his career totals will be there for the taking.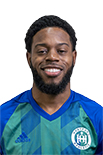 Because of the solid and steady way Alex Dixon has gone about his work over six seasons in the Championship, you might be surprised to learn in that span he's combined to register 51 goals and assists over stints with the Rochester Rhinos, OKC Energy FC and Hartford Athletic. Included in that are 29 goals over the past four seasons, which might not make him a headliner in a starting lineup but makes Dixon exactly the sort of player who can produce key moments when the postseason arrives. If the Athletic are going to make a run, Dixon's veteran presence and ability in the final third could be very helpful to that end.
Of the playoff moments we've seen in the first 10 seasons of the Championship's history, Antoine Hoppenot's stoppage time equalizer against Indy Eleven in last year's Eastern Conference Final is one that will live long in the memory. With one goal and six assists this regular season, Hoppenot hasn't necessarily put up the numbers we might have expected this season – although some of that could be attributed to a bit of bad luck, his eight Big Chances created were tied for third in the league – but in a team filled with talent it wouldn't be at all surprising to see Hoppenot come up big once again.
F2
Pittsburgh Riverhounds SC
Steevan Dos Santos
Forward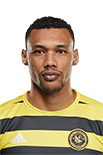 Now a veteran of the Championship, Steevan Dos Santos was closing in on 50 regular-season goals in the league as this campaign drew to a close, but it's everything else that he does for the Hounds that has made him one of the more underrated forwards in the league over the past few years. No, the Cape Verde native hasn't so far put up a signature season in terms of pure numbers – his highest goal total in a season is 10 – but in addition to that over the past four years, Dos Santos has narrowly won the majority of more than 1,800 duels – uncommon for a forward – while having also won 72 of 106 tackles. It's that work in addition to his ability to find the net which makes him a handful for opposing defenses and a massive asset for the Hounds.
You might remember last offseason, I wrote a piece that noted how wherever he went in the Championship, an appearance in the postseason always followed. Well, here we are, it's the postseason, and Wal Fall and Saint Louis FC are here. That Fall scored in the side's decisive victory against Indy Eleven – a penalty kick that ended up serving as the deciding goal in STLFC's 2-1 win – was about as perfect as you could have asked for as it continued Fall's remarkable individual run over the past five seasons. Over the past five years, when he's been on the field, Fall's sides have gone 54-32-27. It's not overwhelming, but it shows that in addition to the 30 goals and 10 assists he's put up in that span there's just a quality that Fall brings that helps lift teams to a different level. If there's going to be a run from STLFC this month, Fall's going to be in the middle of it.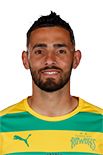 It's always felt like there's been something that hasn't quite added up for Leo Fernandes with the Tampa Bay Rowdies over the past four years since the club joined the Championship. For all of the chances and shots and creativity taking on defenders Fernandes has shown, all he's got to show for it are 11 goals and 15 assists in 82 appearances. But, as much of the spotlight has been draw by Sebastian Guenzatti over the past two seasons and the club's revamped defense this year, it does feel as though if things come together for Fernandes, there could be very good things ahead for the Rowdies. His equal ability to shoot (130 total shots) or create (125 Chances created, 29 Big Chances created) helps keep opponents off-balance, and his work-rate on the flank is consistently strong. For Fernandes, there would be no better time to have a breakout moment in the numbers that matter most.