SATURDAY, SEPTEMBER, 5
New York Red Bulls II vs. Pittsburgh Riverhounds SC
(3-6-0)
Group F
5:00 p.m. ET
|

Venue: Red Bull Arena FiveThirtyEight.com Predictor: NY Wins 19% | Draw 22% | PIT Wins 59%
(7-3-1)
Group F
The Gist: Pittsburgh Riverhounds SC will try to add to its lead at the top of Group F as it visits the New York Red Bulls II, who will try to pick up back-to-back wins for the second time this season at Red Bull Arena. New York earned a 3-2 victory against Loudoun United FC in its last outing to remain in third place in the group, but still face a seven-point gap to make up to second placed Hartford Athletic if it's to earn a place back in the postseason. The Red Bulls II did claim victory when these teams met for the first time at Red Bull Arena earlier this season as a late penalty kick by Deri Corfe proved the difference in a 2-1 victory, but the Hounds repaid the Red Bulls II on August 8 in their most recent meeting with a 4-1 win at Highmark Stadium. Pittsburgh is coming off back-to-back 3-0 victory as it enters this contest, but on Thursday it was confirmed the side will be without key midfielder Kenardo Forbes for between 4-8 weeks after suffering a leg injury. The Hounds will try to overcome his absence as comfortably as they did against Loudoun United FC on Tuesday night to retain their edge over Hartford in the standings.
Charlotte Independence vs. North Carolina FC
(4-3-3)
Group G
7:00 p.m. ET
|

Venue: Sportsplex at Matthews FiveThirtyEight.com Predictor: CLT Wins 36% | Draw 27% | NC Wins 37%
(3-4-1)
Group G
The Gist: Both the Charlotte Independence and North Carolina FC will try to build on big midweek victories as they square off again at the Sportsplex at Matthews. The Independence hold a five-point lead on North Carolina going into the contest thanks in part to their 1-0 win when the teams last met on August 26, and Charlotte retained that advantage on Wednesday night as it withstood early pressure – including a key penalty kick save by Brandon Miller – against Memphis 901 FC before finding a pair of first-half goals in a 2-0 victory at AutoZone Park. NCFC also got a crucial penalty save of its own in a 2-1 win against Birmingham Legion FC on Wednesday night as Alex Tambakis denied Birmingham's Neco Brett from the spot in second-half stoppage time. That win ensured North Carolina – which has two games in hand on Charlotte – remained within view of the Independence ahead of this playoff six-pointer.
Hartford Athletic vs. Loudoun United FC
(5-2-1)
Group F
7:00 p.m. ET
|

Venue: Dillon Stadium FiveThirtyEight.com Predictor: HFD Wins 49% | Draw 23% | LDN Wins 27%
(1-6-2)
Group F
The Gist: Hartford Athletic will try to solidify second place in Group F as it hosts Loudoun United FC as both sides look to rebound from defeats to first-place Pittsburgh Riverhounds SC at Dillon Stadium. The Athletic suffered a 3-0 defeat to the Hounds last Friday night as they missed out on a chance to take the group lead, and now sit six points behind Pittsburgh for first place. Hartford will be looking for a turnaround against a Loudoun side that almost claimed victory the last time it visited Connecticut, only for a late intervention by Markus Naglestad that helped the side rally to a 2-2 draw. United is coming off its own three-goal defeat to the Hounds on Tuesday night to remain 11 points back of Hartford and the playoff positions. That means victory is essential if Loudoun is to boost its chances of reaching the postseason this year.
Indy Eleven vs. Louisville City FC
(6-3-1)


Group E
7:00 p.m. ET
|

Venue: Lucas Oil Stadium FiveThirtyEight.com Predictor: IND Wins 42% | Draw 29% | LOU Wins 29%
(5-3-2)


Group E
The Gist: This season's third edition of the Louisville Indianapolis Proximity Association Football Contest will be a battle for first place in Group E, with Indy Eleven holding a two-point lead on Louisville City FC as they square off at Lucas Oil Stadium. LouCity has held the upper hand so far in 2020, going 1-0-1 at Lynn Family Stadium in the first two meetings. The last meeting between the clubs on August 26 saw Paolo DelPiccolo score the lone goal in a 1-0 win that helped LouCity to an undefeated month and helped close the gap further to Indy in the standings. The Boys in Blue will see their first action since that defeat on Saturday knowing a win would solidify its place at the top of the standings, but Indy saw a dip in form over the past month, going 1-2-1 and scoring only twice in August. Turning that form around will be the biggest focus for Indy Head Coach Martin Rennie as Indy tries to earn its first win against its rival since May 5, 2018, since when Louisville has gone 4-0-4 across the regular season and playoffs.
Miami FC vs. Charleston Battery
(1-5-2)
Group H
7:30 p.m. ET
|

Venue: Riccardo Silva Stadium FiveThirtyEight.com Predictor: MIA Wins 39% | Draw 26% | CHS Wins 35%
(6-2-2)
Group H
The Gist: The Charleston Battery will try to run their winning streak to five games as they visit a Miami FC side that will be fighting for its playoff life when the teams square off at Riccardo Silva Stadium. The Battery enter the weekend four points behind the Tampa Bay Rowdies for first place in Group H, and in strong position to earn a 10th consecutive playoff berth in the Championship thanks to their recent run of form. Last Saturday night, Charleston handed Tampa Bay its first loss of the season, and preceding that the Battery took a 3-1 win against Miami that widened the gap between the two clubs in the group standings. After Miami's 3-0 defeat against Tampa Bay on Wednesday night, it remains 15 points back of Charleston with eight games to go. If there's going to be a move toward the postseason spots for the hosts, it's got to start happening on Saturday night.
Colorado Springs Switchbacks FC vs. OKC Energy FC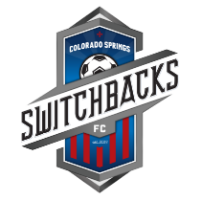 (1-4-4)
Group C
8:00 p.m. ET
|

Venue: Weidner Field FiveThirtyEight.com Predictor: COS Wins 41% | Draw 27% | OKC Wins 32%
(1-5-4)
Group D
The Gist: Colorado Springs Switchbacks FC and OKC Energy FC are both in must-win territory as they meet at Weidner Field looking to keep their postseason hopes alive. The Switchbacks took victory when these sides met at Taft Stadium to start the season in March, but since then the side has gone winless after the resumption of play. There have been positive signs coming from Colorado Springs of late, however, after three consecutive draws against playoff contenders El Paso Locomotive FC, Austin Bold FC and New Mexico United, but now wins are required with an eight-point gap to make up on El Paso for second place. Energy FC faces a six-point deficit with six games to go in its season, but it too has struggled overall this year with only one win to its credit. After earning a 1-1 draw with Austin last time out despite being reduced to 10 men for much of the second half, Energy FC will head to Colorado Springs looking to reverse the result from when the sides met earlier this year.
Discipline: OKC - Rafael Garcia (Suspended)
Memphis 901 FC vs. Birmingham Legion FC
(1-5-3)
Group G
8:00 p.m. ET
|

Venue: AutoZone Park FiveThirtyEight.com Predictor: MEM Wins 27% | Draw 26% | BHM Wins 48%
(6-2-3)
Group G
The Gist: Both Memphis 901 FC and Birmingham Legion FC will try to rebound from midweek defeats as they meet at AutoZone Park, with Birmingham looking to solidify its place at the top of Group G and Memphis needing to keep its postseason hopes alive. 901 FC made a fine start on Wednesday against the Charlotte Independence but missed chances – most notably a saved penalty kick – in the early going came back to bite the hosts as Charlotte came away with a 2-0 victory. That result put Memphis nine points behind the Independence in the standings, and continued its recent winless streak, now at four games. Legion FC, meanwhile, missed a stoppage-time penalty kick of its own against North Carolina FC on Wednesday in a 2-1 defeat, and while Birmingham still sits six points ahead of second-placed Charlotte, getting back in the win column to ensure that gap doesn't shrink any further will be front of mind for the visitors.
Austin Bold FC vs. FC Tulsa
(3-2-4)


Group D
9:00 p.m. ET
|

Venue: Bold Stadium FiveThirtyEight.com Predictor: ATX Wins 52% | Draw 24% | TUL Wins 24%
(3-2-4)


Group D
The Gist: The first of two crucial meetings in the race for the playoffs in Group D sees Austin Bold FC looking to get back in the win column and FC Tulsa hoping to build on a positive midweek result at Bold Stadium. Tulsa pulled level on points with Austin on Wednesday night after a 2-1 victory against Rio Grande Valley FC that saw Dario Suarez score both goals for the hosts at ONEOK Field. Now Suarez will try to fire his side toward its first postseason appearance since 2017 against Austin, which is undefeated in its last six games but has drawn four of those contests. Among those was a 2-2 draw at ONEOK Field when these teams last met on August 19, a game that saw Bold FC reply twice after Tulsa had taken the lead, while last Sunday Austin was held to a 1-1 draw by OKC Energy FC despite playing up a man for almost the entire second half. With a second meeting awaiting on Tuesday night, the first encounter should prove a fascinating affair in this postseason battle.
San Antonio FC vs. Rio Grande Valley FC
(7-0-3)
Group D
9:00 p.m. ET
|

Venue: Toyota Field FiveThirtyEight.com Predictor: SA Wins 78% | Draw 15% | RGV Wins 6%
(0-8-3)


Group D
The Gist: San Antonio FC will try to maintain its position as the lone undefeated side in the Championship as it hosts South Texas Derby rival Rio Grande Valley FC, with the Toros looking to claim its first win of the season as it heads to Toyota Field. The Toros fell 2-1 on Wednesday night to FC Tulsa to run their record to 11 games without a win this season. San Antonio, on the other hand, is undefeated in its 10 games this campaign, including a 3-1 win against the Toros last Friday night at H-E-B Park that saw Blake Smith and Luis Solignac score in the first half to set up the win for the visitors. Sitting with the most shutouts and fewest goals conceded in the Championship, SAFC is riding high as it continues to close on a postseason berth.
El Paso Locomotive FC vs. New Mexico United
(4-2-3)
Group C
9:30 p.m. ET
|

Venue: Southwest University Park FiveThirtyEight.com Predictor: ELP Wins 38% | Draw 28% | NM Wins 34%
(6-2-2)
Group C
The Gist: The top two teams in Group C will square off for the third time this season as New Mexico looks to add to its five-point lead over Locomotive FC while the hosts look to move without touching distance of the group leader with a win. New Mexico played to a 1-1 draw in its last outing against Colorado Springs Switchbacks FC as Amando Moreno found the net for the fourth time in August, while Locomotive FC earned a late 2-1 win against Real Monarchs SLC thanks to Bryam Rebellon's late winner. Those results cemented the two sides as the likely representatives from Group C in the postseason, but the battle for first place could become very interesting if El Paso can find victory on Saturday. Locomotive FC has yet to defeat United this season, however, with New Mexico earning a 2-1 victory when it last visited Southwest University Park behind goals from Chris Wehan and Devon Sandoval. Another victory for the visitors on Saturday would put them in line for a first-place finish when the regular season concludes.
Discipline: New Mexico – Ryan Williams (Suspended)
Orange County SC vs. LA Galaxy II
(5-1-3)


Group B
10:00 p.m. ET
|

Venue: Championship Soccer Stadium FiveThirtyEight.com Predictor: OC Wins 56% | Draw 24% | LA Wins 20%
(5-4-0)


Group B
The Gist: Orange County SC will try to solidify second place in Group B as it plays host to the LA Galaxy II for their second meeting of the week on Saturday night. OCSC rallied from an early deficit to take a 2-1 victory on Wednesday night as Ugo Okoli scored both goals for the hosts, moving the team into second place in the group ahead of the Galaxy II. Adding another victory would see Orange County's lead expand to at least six points by the end of Saturday night depending on results elsewhere and give Head Coach Braeden Cloutier's side breathing room as it tries to catch Phoenix Rising FC in first. Los Dos have proven resilient this season, though, and can keep their playoff chances firmly alive if they can reverse Wednesday night's result. Should the Galaxy II earn a win, it would move back ahead of Orange County on total wins and set up a potentially thrilling final stretch of the season.
Reno 1868 FC vs. Portland Timbers 2
(7-2-0)
Group A
10:00 p.m. ET
|

Venue: Greater Nevada Field FiveThirtyEight.com Predictor: RNO Wins 66% | Draw 18% | POR Wins 16%
(0-9-0)


Group A
The Gist: Reno 1868 FC will try to regain its three-point lead at the top of Group A as it welcomes the Portland Timbers 2 for the third meeting of the club's this season. 1868 FC has claimed the prior two meetings, including a 5-2 win at Greater Nevada Field on August 15 that began the club's current three-game winning streak. That streak continued last Saturday night when Corey Hertzog registered a goal with 11 minutes to go to defeat Group B leader Phoenix Rising FC. Portland's fortunes haven't been nearly as good this season with the side still looking for its first points of the campaign. T2 appeared it might have grabbed its first point of 2020 on Wednesday afternoon, but after scoring a stoppage time equalizer, it then conceded another late goals in a 2-1 loss to Sacramento Republic FC. Finding a way to rebound is going to be imperative for the visitors in northern Nevada.
Las Vegas Lights FC vs. Phoenix Rising FC
(2-4-3)


Group B
10:30 p.m. ET
|

Venue: Cashman Field FiveThirtyEight.com Predictor: LV Wins 14% | Draw 18% | PHX Wins 68%
(6-2-2)


Group B
The Gist: Phoenix Rising FC could be looking for a little payback against a Las Vegas Lights FC side that has continued to improve in recent weeks when the sides meet at Cashman Field for the second time this season. Phoenix looked to be cruising to victory on August 22 when it last met Lights FC, holding a two-goal lead as the game entered second-half stoppage time, but then two goals from the hosts saw the game end in a 3-3 draw. At the center of that comeback was Lights FC's Blake Frischknecht, who has proven to be instant offense off the bench for Las Vegas since joining the club. The Las Vegas native has recorded three goals and three assists in six appearances, including a tally on Wednesday night as Lights FC drew 1-1 with San Diego Loyal SC. Phoenix, meanwhile, is coming off its second loss of the season, a 2-1 setback to Reno 1868 FC, and will be looking to get back in the win column and solidify its place atop Group B.
SUNDAY, SEPTEMBER 6
Tampa Bay Rowdies vs. Philadelphia Union II
(7-1-3)


Group H
7:30 p.m. ET
|

Venue: Al Lang Stadium FiveThirtyEight.com Predictor: TBR Wins 84% | Draw 12% | PHI Wins 4%
(1-5-1)
Group F
The Gist: The Tampa Bay Rowdies could have a chance to become the first qualifier for the 2020 USL Championship Playoffs if things have gone their way before Sunday's meeting with the Philadelphia Union II. Tampa Bay defeated in-state rival Miami FC 3-0 on Wednesday night as Sebastian Guenzatti scored his fifth goal of the season, moving the Rowdies' Magic Number to clinch a playoff spot down to six points. Should Miami fall on Saturday night to the Charleston Battery, the Rowdies can clinch a playoff spot with weeks to play. With the Union II coming off a 2-1 defeat to Atlanta United 2 on Wednesday night to remain at the bottom of Group F, earning all three points is a must for the Rowdies as they look to withstand the recent run of form by the Battery to hold onto top spot in the group.